Parents of young music students and people who are looking for affordable instruments often find themselves searching for the best possible instrument at a price point that works for them.
This often leads them to come across the Jupiter brand of clarinets, and I've had one for a while now so I have some experience to share with you regarding the brand.
Is Jupiter A Good Clarinet Brand?
The Jupiter B-flat clarinet represents a decent value for the price paid. Jupiter is a reputable instrument brand and certainly at the top of the step-up brand category. The brand has its pluses and minuses, however, which this article will explore.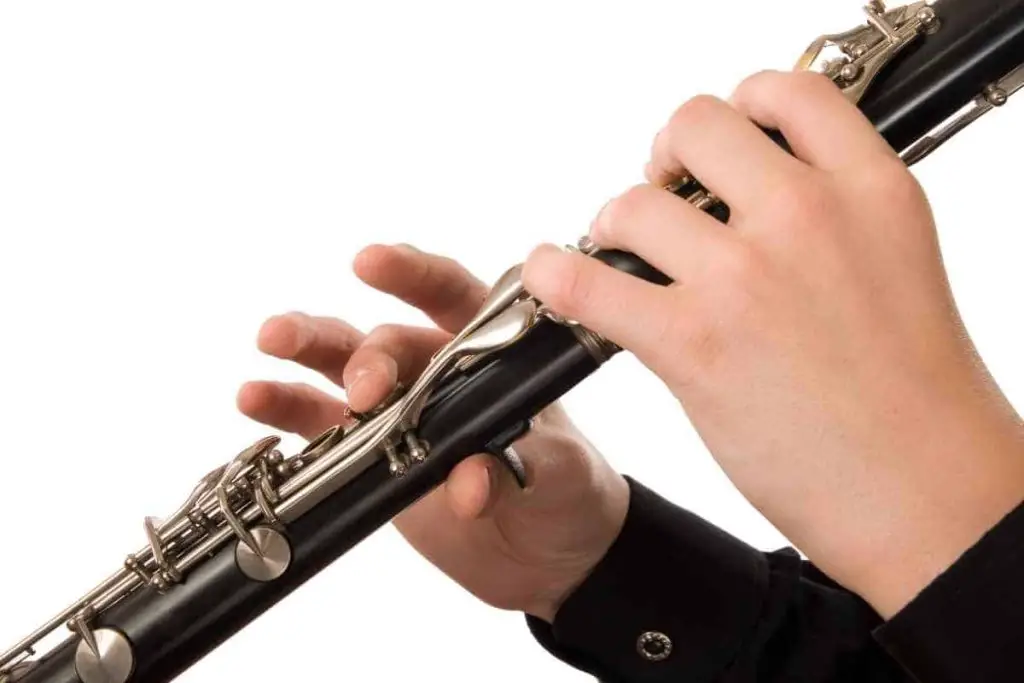 1. Are Jupiter Clarinets Good for All Levels of Clarinet Player Experience?
In general, I would recommend Jupiter clarinets for beginners and intermediate players.
The Jupiter clarinet plays well enough for a beginner- to mid-level band, but as parts become more demanding, the limitations of the instrument will become clear.
However, the advanced models of the Jupiter clarinet are getting more press today and have been positively reviewed.
From my own personal experience, if I were going to spend the money on a professional instrument, I would probably invest in a different brand like Buffet or Yamaha.
Here's a short video introducing their JCL-1100 intermediate model:
2. What Genres Of Music Are They Good For?
Jupiter clarinets are generally recommended for the wind band repertoire. Most beginners to intermediate clarinetists play in wind bands at school or in the community.
They are also suited for playing classical music of all kinds. Many students enjoy playing solo pieces accompanied by piano.
The ABS plastic clarinets sold by Jupiter are also good for marching or playing in outdoor concerts where weather conditions may be up in the air.
3. What Do The Reviews Say?
Jupiter clarinets receive mostly positive reviews, though there are a few drawbacks to be aware of.
Most beginning players and their parents are very pleased with the performance and durability of the lower-end Jupiter models.
The tone of the Jupiter instruments is compared favorably to more expensive brands like Yamaha.
Some students prefer the Jupiter over the Yamaha student model because the Yamaha reportedly has a thinner, drier sound.
The Jupiter clarinet comes with a few features that are common to more expensive models:
Adjustable thumb rests are great for players with smaller or larger hands than usual.
A left-side Eb key makes playing difficult passages smoother.
The reviews generally say that intermediate Jupiter clarinets compare favorably to prestige brands.
Some teachers and experts compare the intermediate Jupiter clarinet to the industry standard Buffet B12 and claim that it has equivalent quality.
One of the minuses of the beginner Jupiter clarinet, as mentioned by many reviewers, is that it comes with a poorly performing mouthpiece.
It is hard to play in tune with the mouthpiece included with the instrument, but when the mouthpiece and in some cases the barrel are replaced by industry-standard models, the tone and intonation are much better!
4. Do Jupiter Clarinets Last A Long Time?
Jupiter clarinets are quite durable, but they may not last as long as clarinets from major brands due to slightly cheaper materials and less robust construction.
My own Jupiter clarinet had trouble with its pads and corks within the first few years of owning the instrument.
Fortunately, Jupiter clarinets are fully repairable, unlike cheaper brands of beginner and intermediate clarinets.
If you have problems with your instrument within the first few years and bought it new, it may even be under warranty as described later in this article.
5. Do Jupiter Clarinets Hold Their Value Well?
Student clarinets from all brands lose their value rapidly as soon as they are sold the first time.
There is often a glut of used models on the market which are sold by parents whose children did not enjoy playing the instrument or were not able to keep up with practicing. This drives the resale price down.
Intermediate clarinets are resold less frequently, and they are more likely to hold their value due to their high-quality wood construction.
If you buy a Jupiter intermediate or professional clarinet, you are more likely to get a good resale price.
6. Do Jupiter Clarinets Come With Warranties?
One of the best features of the Jupiter clarinet is that it does come with a warranty.
On wooden clarinets, the upper joint, bell, barrel, and lower joint are warrantied from cracking. The lacquer, epoxy, and plated finishes are also covered.
Parts that are replaced along with typical wear and tear, like pads and corks, are not under warranty.
7. How Long Does This Warranty Last?
The terms of Jupiter's warranty are generous. The instrument is guaranteed free of defects in materials and workmanship for 10 years. Wooden instruments are protected from cracking for 5 years.
To get service, contact the Jupiter dealer or visit the company's website.
8. What Gear Do You Get With A Jupiter Clarinet?
Many reviewers love the covered French-style case, which is light, compact, and easy to carry. Traditionally, student models come with hard briefcase-style cases that can be hard to manage.
The instrument comes with a mouthpiece, though as mentioned above, many reviewers recommend replacing it with an industry-standard model like a Vandoren.
Clarinet care kits are sold separately from the Jupiter models.
Personal Thoughts
I own a Jupiter intermediate clarinet which I bought used, but it is not my favorite instrument. I have had to spend more on repair bills over the years because the parts are not as durable as the other instruments in my collection.
I had particular trouble with the corks and pads as they were installed by the manufacturer. I have heard that the instruments are more durable than when my instrument was made in the early 2000s.
If you are looking for a decent-quality clarinet that won't break the bank, especially for a young or inexperienced player, I would recommend checking out the Jupiter brand.
However, if you are looking for a high-end instrument, it pays to put a little more money into your purchase and go for a major brand to protect your investment.
Sources
http://jupitermusic.com/us/warranty/