If you're on the hunt for a new saxophone, you're probably overwhelmed by all the options.
There are so many brands to choose from, and with such a broad selection available, things can get confusing pretty quickly!
Which Saxophone Brands Should You Avoid?
Saxophone brands to avoid include the Antigua, Eastar, Glory, Mendini, and Nuvo brands. The manufacturers make these brands cheaply, and their quality is not worth your money in the long run, even for beginner instrument standards.
The rest of this article will tell you all about which saxophone brands to avoid and provide a list of trustworthy brands to invest in their place.
Read on to learn more about the worst (and best) saxophone brands on the market.
The Top 5 Saxophone Brands To Not Waste Money On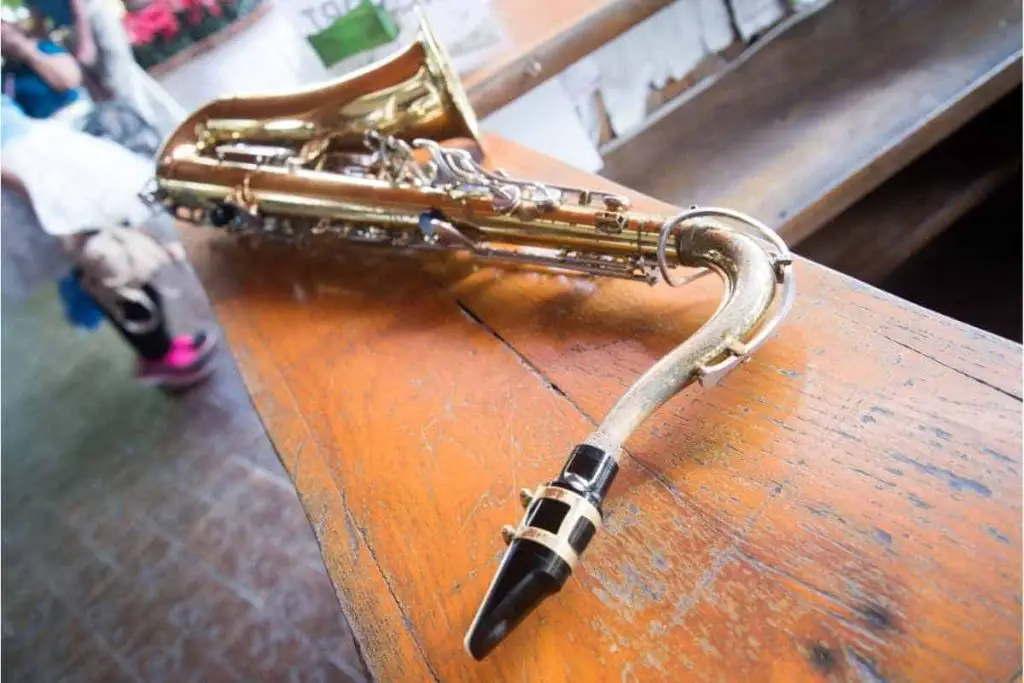 You will find many instrument brands on the market, but unfortunately, not every brand will meet quality standards. 
Here are the top 5 saxophone brands to avoid:
Antigua
Eastar
Glory
Mendini
Nuvo.
Let's expand upon each of these brands in further detail.
1. Antigua
Antigua saxophones are a cheap alternative for those who wish to purchase an instrument on a tight budget.
However, we don't recommend these saxophones to anyone serious about playing the instrument. Even for beginner or student grade standards, Antigua saxophones are known for their low-quality make and sound.
One thing to note about saxophones is that you will get what you pay for in terms of quality.
If you spend a low price on a cheap instrument, keep in mind that you'll be sacrificing a significant amount of quality.
Avoid Antigua saxophones if you want to invest in an instrument worth your money.
2. Eastar
Another brand of saxophones you should consider avoiding is Eastar.
Eastar saxophones are primarily known for their low quality. The cheapness of the material and make is apparent in any Eastar saxophone, and customers have often complained about sticky pads and a less-than-favorable tone.
You're better off avoiding Eastar saxophones entirely, even as a student or beginner.
3. Glory
You will often find Glory saxophones for sale on retail sites like Amazon.com for an affordable price.
But as I mentioned before, it's crucial to note that cheaply priced instruments will most likely lack the quality of more expensive ones.
Understandably, some people have their finances in mind when they opt for a Glory brand saxophone. Everyone's budget is different, and investing a lot of money in a saxophone isn't always an ideal option.
However, you can find better, trustworthy brands that will provide you with a better price range without sacrificing quality. Glory, unfortunately, is not one of them.
Glory saxophones have numerous negative reviews, and people tend to view them as low-quality instruments, even for beginners.
They are cheaply made and not worth your hard-earned money.
Plus, if budget is an issue, you can always rent a saxophone from a music store to try it out for a little while, or you can use one from a school band program if you're in one of those.
4. Mendini
Another cheap instrument brand to avoid for saxophones is Mendini.
Mendini is another brand commonly available on large retail sites like Amazon.com.
Many people purchase Mendini instruments for their low price, but the reviews aren't that great, and Mendini has a bad reputation in the industry for its low-quality products.
The manufacturers don't make the Mendini saxophones with the same quality and care as other trustworthy brands, which is seen and heard in their products.
These instruments will not have a good sound, and we do not recommend them.
5. Nuvo
Nuvo is yet another saxophone brand you should reconsider.
Nuvo is known for making plastic saxophones at a fraction of the cost of most traditional saxophones.
For example, this Nuvo Soprano Saxophone (available on Amazon.com, but not an affiliate link) costs under $100, while other conventional brass saxophones will cost hundreds, if not thousands.
While it might sound fun to invest in a plastic saxophone like the kind Nuvo produces, ultimately, it's not worth the money. These instruments can barely be considered saxophones and have a negative reputation in the saxophonist community.
Beginners are always better off learning with a traditional saxophone—and one that is worth the money.
5 Trustworthy Sax Brands That Are Worth the Money
While there are lots of saxophone brands to avoid, fortunately, there are also many trustworthy, high-quality brands that are definitely worth the investment.
Here are 5 trustworthy sax brands that are worth the money:
Jupiter
P. Mauriat
Selmer Paris
Yamaha
Yanagisawa
Let's discuss these brands in more detail.
1. Jupiter
Jupiter is an excellent instrument brand that produces top-quality saxophones at a reasonable price.
This company has an excellent reputation in the music industry and is considered one of the most trustworthy brands on the market.
If you're thinking about purchasing a Jupiter saxophone, this instrument will be worth the money.
2. Mauriat
P. Mauriat is known for producing a broad selection of high-end instruments, including saxophones.
A P. Mauriat saxophone is an instrument you can trust. This brand has an excellent reputation, and their saxophones are known for their beautiful make and top-notch tone.
P. Mauriat is undoubtedly worth your consideration.
3. Selmer Paris
Selmer Paris instruments are part of one of the highest quality instrument lines available.
In addition to having excellent quality and sound, Selmer Paris saxophones are also very visually appealing. Their instruments are the best regarding aesthetics, in my opinion, and make a great addition to any performance.
While Selmer Paris saxophones will be a bit on the pricey side, ultimately, the investment is worth the extra cost. 
4. Yamaha
Yamaha is a fantastic brand to invest in buying! With an excellent selection of high-quality instruments from different price ranges, it's no mystery why Yamaha remains one of the most popular brands for saxophonists and other musicians who love their products.
Yamaha has a rich history and over a century of experience in the industry of instrument crafting. There's a reason why so many people trust Yamaha, and I would recommend investigating what they have to offer.
5. Yanagisawa
Yanagisawa is one of the best instrument brands out there. Favored by students and professionals alike, Yanagisawa has an excellent reputation and is known for producing high-quality instruments.
Yanagisawa will have what you're seeking if you're searching for a saxophone you can depend on for the long haul.
Final Thoughts
The saxophone is a very popular instrument, so there are a lot of brands to choose from on the market. Unfortunately, this also means there are many brands to avoid!
A good rule of thumb is to stick to brands that have invested time to build a reputation for quality instruments.
If an instrument brand has high reviews and a decent reputation, they're most likely trustworthy enough to be worth your money.
Hopefully, this article has provided some guidance so that you can feel confident in your shopping endeavors for the perfect saxophone.