Choosing between bass clarinet, alto, tenor, and baritone saxophone can be difficult. Each instrument is fun and rewarding to play, but they each have special characteristics that may make them more attractive to you.
I've played all 4 of these instruments at one time or another over the past 30 years, and I'll boil down the key differences you need to know in this article!
The bass clarinet is a quieter instrument, well-suited for play in concert bands and orchestras. The saxophone finds a home in concert and marching bands as well as jazz and rock groups. The bass clarinet is a bit harder to play in the higher note ranges, and costs more new than most alto and tenor saxophones.
Choosing between these instruments is all about your personal sound preference and where you plan to play.
1. Which Of Bass Clarinet And Alto, Tenor And Bari Sax Is Easier To Learn?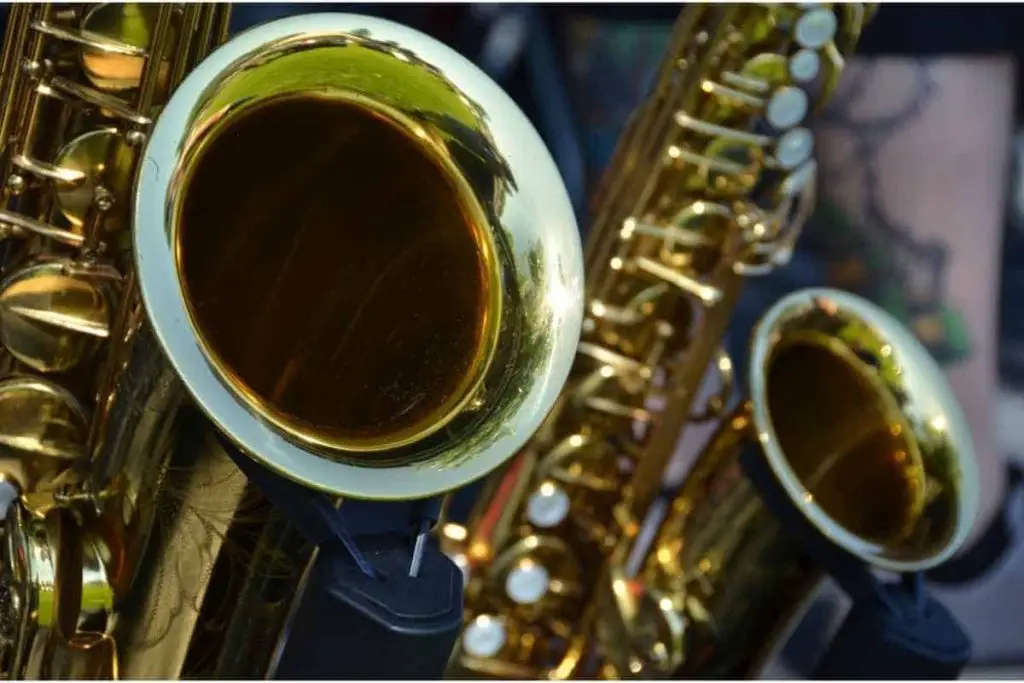 The alto sax is probably the easiest to pick up of all these instruments. It is a moderately sized instrument and geared toward beginners.
If you start on alto sax, you will have an excellent base for transitioning to the other members of the saxophone family later on.
Do They All Have Similar Fingerings?
The alto, baritone, and tenor saxophones all have the same fingerings, though the baritone has a few extra keys to take it down to the bottom of its range.
The bass clarinet uses clarinet fingerings, which are similar in the lower register but different in the upper register.
This happens because the saxophone has an octave key while the clarinet has a register key. The bass clarinet's register key raises the pitch of the note by an octave and a fifth.
Both the saxophone and clarinet fingering systems are easy to learn. There is usually a learning curve when a clarinetist starts to play the saxophone or vice versa, but for an experienced musician, it is not hard to switch back and forth.
I talked in great detail about how to make the switch from clarinet to saxophone on this site, so be sure to give that a read if you'd find that helpful.
Which Is Easier To Get A Good Sound Out Of?
It all depends on where you start. Most teachers agree that the alto saxophone is easiest for beginners because it is a medium-sized instrument and is relatively forgiving.
Bass clarinets make a pleasant tone in the low register for beginners, but the high registers are difficult for a few years.
2. Differences In Sound
The alto saxophone can be mellow or energetic. The tenor saxophone can be sharp and "brassy".
The baritone saxophone has a darker, smoother tone than the tenor, but it can also be played with a more aggressive sound.
The bass clarinet has a distinctive rich sound in the lower register that is often compared to a cello.
Both bass clarinet and saxophone are important members of musical ensembles because they can produce different tone qualities!
Do They Play In Different Keys?
The alto and bari saxophones are in the key of E-flat. The tenor saxophone and bass clarinet are in the key of B-flat.
3. How Does The Range Of The Bass Clarinet Differ From Tenor And Baritone Sax?
The bass clarinet and tenor saxophone play the same written pitches in the key of B-flat but have different ranges.
The modern bass clarinet (going to written low C below the treble staff) can play between Bb1 and B5. The tenor saxophone can play from Ab2 to E5.
The modern baritone sax can play from a low of C2 to A4.
4. How Are They Different In Size And How They're Constructed?
Below is a list comparing the different sizes of these instruments:
The bass clarinet is 40 inches tall when fully assembled.
The alto sax is just 29 inches tall.
The tenor sax is 36 inches tall.
The baritone saxophone is between 36 and 40 inches tall, depending on the make and model.
Saxophones are made of brass while bass clarinets are made of wood or ABS plastic.
Both instrument families have metal keys, pads, and tone holes in roughly equivalent arrangements.
The major difference between saxophone and clarinet fingering systems is that the saxophone uses an octave key (raising the pitch an octave) while the clarinet uses a register key (raising the pitch an octave and a fifth).
5. How Much Does It Cost To Get Started Playing Either Instrument?
Buying a good-quality student or intermediate saxophone or bass clarinet will cost between $1,500 and $5,000.
The alto saxophone is the most affordable of all four instruments, followed by the tenor saxophone. The bass clarinet and baritone sax are the most expensive.
Here's an idea of how much you'd pay for a new, beginner version of each instrument:
You can find a quality student alto saxophone for about $800 to $2,000.
A student baritone sax costs between $3,000 and $5,000.
A student bass clarinet in ABS plastic starts at about $2,000.
6. What Kinds Of Music Can You Play With Bass Clarinet And The Different Saxophones?
When you choose between these instruments, you will be able to explore a variety of musical styles. All four instruments are mainstays in the concert band.
Alto, tenor, and baritone saxophones are also good marching instruments!
The bass clarinet has the best chance of being needed in an orchestra. Alto, tenor, and baritone saxophone are all excellent for swing band, jazz band, and rock.
7. Specific Tips On How To Choose Between Bass Clarinet And Saxophone
When you are choosing between these four excellent instruments, you need to keep your personal priorities in mind, including cost and musical style.
Perhaps the most important consideration is whether you want to be involved in jazz. If you have your heart set on playing jazz music, the saxophone may be the right choice for you.
If you have a greater love for classical music, the bass clarinet may be the best fit for you.
The alto and tenor saxophones are more affordable than the baritone sax or bass clarinet, a fact which may bring you closer to your decision.
As someone who has played all four of these instruments, I would encourage you to choose the one that best fits your personality and the style of music you want to play while staying within your budget.
All of these instruments will give you a fun, enriching experience if you put in the time to practice!