Whether you're looking to buy or sell a used clarinet, understanding the instrument's worth is crucial.
After all, if you're not sure how much a used clarinet is worth, you could end up overpaying for one or underselling it to interested buyers.
A used clarinet is worth $20 to $5,000. Note, however, that the value varies depending on the clarinet's condition, brand, and components. The instrument's age and previous ownership can also influence its worth. An appraisal is the best way to determine your used clarinet's actual worth.
This article will address the factors impacting a clarinet's worth and discuss how to appraise a clarinet's value before buying or selling it.
You can use this information to discover the value of your current clarinet or to ensure you're paying a reasonable price for a used clarinet.
Factors Impacting a Clarinet's Worth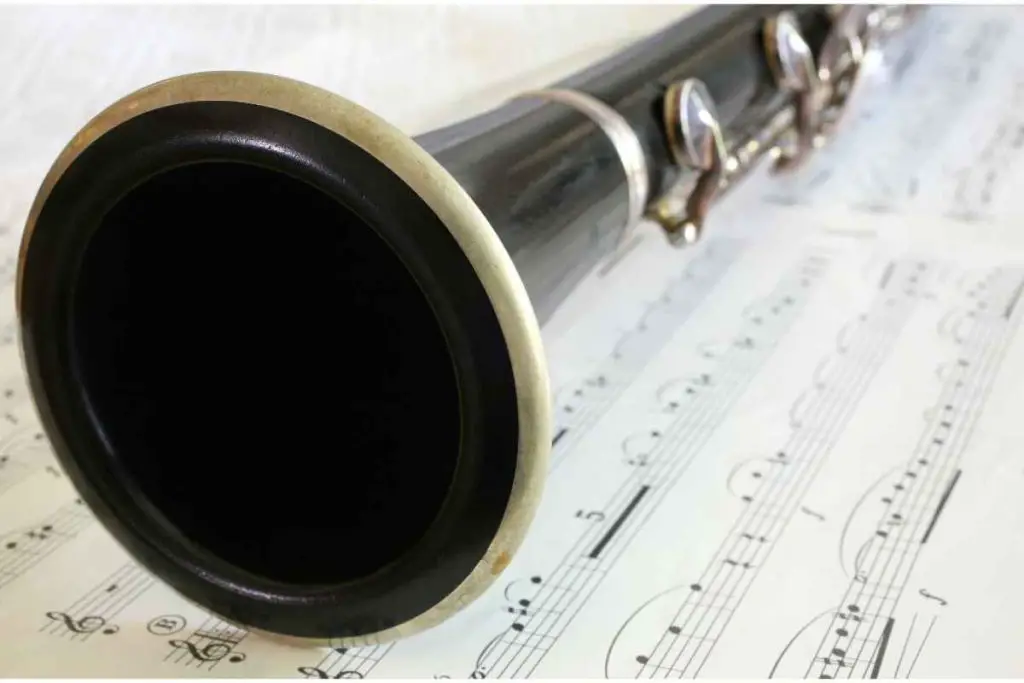 To determine a used clarinet's worth, you'll need to consider the factors affecting clarinet values.
For example, clarinets are priced differently based on their:
Condition
Brand
Components
Age
Previous ownership
Let's break these factors down in more detail below.
A Used Clarinet's Condition Affects Its Value
Condition is one of the most significant factors influencing the worth of a used clarinet.
After all, a high-quality clarinet that's been damaged or poorly maintained isn't worth as much to musicians as a lower-quality clarinet in near-flawless shape.
If your used clarinet is well-oiled, has greased corks, and has well-maintained keys free of rust or damage, it's probably going to sell for a much higher price than cracked clarinets that are rusted and heavily damaged.
Branding Can Significantly Impact Clarinet Worth
High-quality instrument makers often take weeks or months to produce a single clarinet.
Less reputable instrument producers might make dozens of clarinets each day, and the quality of these clarinets is noticeably inferior. 
For this reason, musicians tend to gravitate toward a few select clarinet brands when selecting high-quality instruments. 
Some of the best brands for clarinets include:
Buffet
Jupiter
Selmer
Selmer Bundy
Artley, Vito, and Yamaha clarinets are also beloved by players, but they're typically best for beginners. 
Clarinets with an unknown or unusual brand are generally cheaply made, making them far less valuable than instruments produced by well-known brands.
If possible, avoid purchasing these off-brand clarinets. 
More than likely, these clarinets are made of plastic or cheap metal — two materials that result in poor-quality sound and lower instrument values. 
High-Quality Components Increase a Used Clarinet's Value
Most clarinets are made of wood, nickel, and cork. But some are made of:
Plastic
Silver
Brass
Resin
Aluminum
The highest-value clarinets tend to have wooden bodies with silver-plated or gold-plated keys.
On the other hand, the lowest-value clarinets have plastic or resin bodies with exposed nickel keys. 
This difference stems from the base value of these materials. For example, silver and gold (and, to a lesser extent, brass) are precious metals that enjoy higher values than nickel. 
Clarinets with plated keys covered in these precious materials are inherently more valuable than those with plain nickel or aluminum keys.
Clarinet Age Can Also Influence Worth
A clarinet's age can also impact its worth, with many vintage or antique clarinets selling for hundreds of dollars more than relatively new clarinets.
However, age can also be a drawback for these woodwind instruments, especially if the clarinet is in poor condition.
Older clarinets are almost solely made of wood, and those that aren't maintained can show signs of rot and deterioration.
However, well-maintained antique clarinets are rare, making them pricier than many brand-new models.
If you own a vintage clarinet that's several decades old but in excellent condition, you might have a valuable treasure in your possession!
If this instrument once belonged to a famous musician, it might be even more valuable, as previous ownership also impacts used clarinet values.
Previous Ownership Impacts Used Clarinet Prices
Clarinets with only one previous owner can sell for higher prices than clarinets with multiple owners.
The reasoning behind this is that tracking an instrument's maintenance is challenging when it's passed through multiple hands.
Used clarinets that have had professional musician owners can also sell for higher prices.
These instruments tend to be well cared for, and some feature customized components rarely found on standard, mass-produced clarinets.
So, if you're looking for a one-of-a-kind used clarinet to add to your collection, you may want to choose one previously owned by a reputable symphony or orchestra member.  
Used Clarinet Price Chart
If you're wondering how much used clarinets are worth, you can refer to the chart below for a basic breakdown of clarinet values based on brand, model, and material.
| | | |
| --- | --- | --- |
| Brand | Most Expensive Used Models | Material |
| Artley | 17S / S#223386, Worth up to $300 | Plastic resonite, nickel-plated keys |
| Buffet | Prestige Eb Contra Alto / Model BC1553-2-0, Worth up to $25,000 | Grenadilla wood, silver-plated keys |
| Cecilio | Mendini Bb / Varies, Worth up to $170 | Plastic, nickel-plated keys |
| Jupiter | Student Bb / JCL700N, Worth up to $500 | ABS resin, nickel-plated keys |
| Selmer | SeleS Presence Bb / S#R02445, Worth up to $3,000 | Grenadilla wood, Silver-plated keys |
| Selmer Bundy | Bb Soprano / S#512976, Worth up to $250 | Plastic resonite, nickel-plated keys |
| Yamaha | Yamaha Low C / YCL-622II, Worth up to $10,000 | Grenadilla wood, Silver-plated keys |
3 Ways To Determine the Value of Your Clarinet
Let's say you're preparing to list your used clarinet online or sell it to a local instrument store.
Before you begin, you'll want to determine the value of your instrument. Otherwise, you may end up selling it for far less than it's worth.
But how do you determine how much your used clarinet is worth? Some of the most effective ways to determine the value of a used clarinet are as follows.
Search for Identical Clarinets Online
One of the simplest solutions is searching for identical clarinets online. Naturally, you'll need your clarinet's brand and serial number on hand to find matching options listed for sale online.
However, by entering your clarinet's brand and serial number into a search engine like Google, you should immediately see search page results with value estimates. 
For example, searching "Buffet Crampon R13 A Clarinet S#698295" reveals tons of sales results, most of which list the instrument at $3,700 or more.
If you owned this clarinet, you could feel confident that its worth is somewhere in the thousands, depending on its condition and components.
Visit a Local Instrument Store
Of course, performing your own research can be a time-consuming process. Therefore, you might want to visit your local music store for an in-person estimate instead. Many music stores buy and sell musical instruments, including clarinets. 
In fact, several of these stores have in-house appraisal experts that can help you determine the value of your used clarinet.
To use this method, you'll need to bring the clarinet into the store and request an appraisal. Receipts or authentication certificates for your clarinet can help staff generate a more accurate estimate. 
Still, some music stores don't buy woodwind instruments. If your local instrument stores aren't interested in appraising your used clarinet, you may want to contact a musical instrument appraiser.
Contact a Musical Instrument Appraiser
Though the previous two methods can help you get a rough estimate of your used clarinet's worth, they're unlikely to produce a precise value. After all, the condition of your instrument may differ from those listed online, and local music store employees might not be knowledgeable enough to provide an exact estimate. 
Under those circumstances, musical instrument appraisers can help you accurately estimate your clarinet's worth.
However, finding a reputable clarinet appraiser can be tricky. Luckily, there are a few tried-and-true options you might want to explore.
Using House of Musical Traditions To Appraise a Clarinet
House of Musical Traditions is an instrument retailer in Takoma Park, Maryland. In addition to selling a wide range of musical instruments, they also offer instrument appraisals.
While in-person appraisals are preferred, you might also be able to secure an online appraisal by contacting this business and emailing them photographs of your clarinet. 
To learn more, you can email hmtmail@hmtrad.com or call (301) 270-9090. 
Using Mearto to Appraise a Clarinet
Mearto is an online appraisal business in Copenhagen. You can upload images and information about your clarinet to their website to receive an appraisal within 48 hours.
This appraisal service may suit your needs if you're eager to sell your used clarinet quickly, though it's not a free service.
Using Mr. Expert To Appraise a Clarinet
With Mr. Expert, you can receive a free clarinet appraisal in 48 hours. You'll simply need to fill out their online form, upload photographs of your clarinet, and upload photographs of any receipts or authentication certificates.
Conclusion
A used clarinet can be worth as little as $20 and as much as $5,000! Several factors impact a used clarinet's value, including branding, condition, and components.
A clarinet's age and previous ownership can also affect its value.
To discover the value of your used clarinet, you can search for identical clarinets online to find the prices online sellers charge for the instrument. You can also visit a local music store to have your clarinet evaluated.
But contacting a musical instrument appraiser is the most effective way of discovering the worth of your used clarinet.
Sources