The saxophone is one of the most popular wind instruments, and it's no surprise there are so many brands to choose from.
But where exactly do these brands manufacture their instruments?
Saxophones are made in various places worldwide, including the United States, China, Taiwan, Japan, and various other countries. Many different brands produce these woodwind instruments. The first model was crafted in Paris by Adolphe Sax.
This article covers the manufacturing locations of 26 different saxophone brands. To learn where your instrument comes from, keep reading!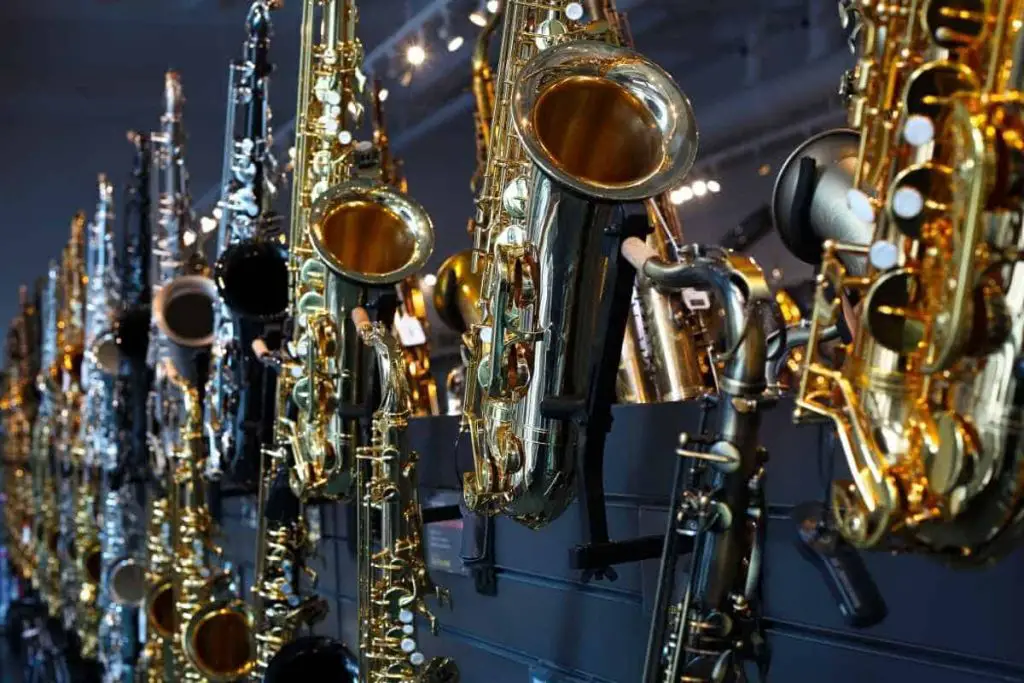 Accent
Accent is a brand of instrument makers that source their materials and manufacturing from multiple continents.
According to their site, their instruments come from Europe, North America, and Asia.
Accent is known for providing a broad range of instruments at both student and professional levels for an affordable price.
You can check out their model archive to review the different models they have released over the years, from as early as 1998.
Allora
Allora is an affordable instrument brand that offers a wide range of student and professional-grade instruments.
Allora's popular Paris series models French craftsmanship techniques, but their saxophones are sourced from Germany.
While Allora instruments are a lot cheaper than other instruments, they are not recommended for professionals, as seen in product reviews for one of Allora's student-grade soprano saxophone models.
However, they are great for beginners.
Antigua
Antigua is an instrument brand created to make music accessible to everyone.
Known for their affordability and accessibility, Antigua saxophones are more for those who need an instrument on a budget.
Their saxophones are manufactured in Taiwan.
Antigua is an acceptable brand only if you're searching for a saxophone on a tight budget.
Armstrong
Armstrong was a US-based instrument brand that merged with King in the 1980s. Today, Armstrong instruments are considered part of Conn-Selmer.
Armstrong saxophones were made in the US.
Armstrong is still known for their vintage-style craftsmanship and experience in the field of manufacturing professional instruments.
Bach
The Vincent Bach Corporation began in 1918, producing mouthpieces for various brass instruments. As the company gained success, it went on to create trumpets.
The Vincent Bach Corporation still exists, although it's since merged with Conn-Selmer.
Conn-Selmer manufactures Bach brass instruments in Elkhart, Indiana. They do not produce saxophones.
Blessing
E.K Blessing is an instrument brand that has been manufacturing instruments since 1906.
Blessing originally manufactured their saxophones in Elkhart, Indiana.
Historic Elkhart was once a hub for instrument manufacturing in the United States, and today, Blessing's instruments still reflect the company's rich history and traditional craftsmanship values.
Buescher
Elkhart, Indiana, a historic US hub for instrument manufacturing, is the manufacturing home of Buescher saxophones.
They were initially created by Gus Buescher, who worked with Conn until he quit and started his own company.
Buescher saxophones are now considered vintage instruments.
Beuscher's brand continued to make saxophones until Conn-Selmer purchased the company.
Buescher saxophones are still available on sites like eBay and other places that sell used instruments.
Buffet
Manufacturers in France and Germany make Buffet Crampon saxophones.
They have been manufacturing instruments for almost 200 years and continue to provide quality products to many musicians.
Buffet Crampon has been making instruments since 1825 and strives to combine contemporary instrument-making methods with the vintage techniques of their past.
Bundy
The Buescher company in Elkhart, Indiana produces Bundy saxophones.
Bundy was a brand released by Selmer with the help of George Bundy in the early 1900s.
The Bundy brand no longer exists today.
Bundy was one of the most popular brands for saxophones in the US for a time, but since the brand no longer operates, they aren't as favored as they used to be.
Cannonball
Cannonball is an instrument company based in Salt Lake City, Utah.
Cannonball saxophones are currently made in Taiwan.
This brand manufactures common wind instruments like the saxophone, flute, trumpet, and more.
Tevis and Sheryl Laukat founded Cannonball in 1996, and the company still produces instruments to this day.
Conn-Selmer
Conn-Selmer is one of the biggest names in the instrument manufacturing industry.
Conn-Selmer saxophones are made in the United States, with facilities located in Elkhart, Indiana, North Carolina, and Ohio.
Conn-Selmer has bought out other companies in the past and remains the leading provider of instruments in the US.
Eastman
Taiwan is home to the Eastman saxophone manufacturers.
Founded in 1992 by musician Qian Ni, Eastman grew to be one of the leading instrument manufacturers across the globe.
Eastman takes pride in their innovation as well as their appreciation for the value of traditional craftsmanship.
Their vision is to provide high-quality instruments and respect their humble beginnings as a business.
Elkhart
Elkhart saxophones get their start in Elkhart, Indiana, hence the name. This brand, now a part of Conn-Selmer, provides robust instruments made to last, perfect for beginner musicians.
The Elkhart brand is known for providing some of the best student-grade instruments available in the United States.
Etude
Made outside of the United States, Etude saxophones feature highly affordable instruments, ideal for beginners or musicians on a tight budget.
While it's not specified where exactly these instruments are manufactured, it is disclosed that Etude's manufacturers do not reside within the US.
Giardinelli
Giardinelli saxophones are known for their high-quality craftsmanship and performance.
These stunning instruments produce smooth sounds and are popular among musicians!
While Giardinelli originated as a repair shop in New York, they source their products in Europe.
Today, the company has a wide range of instruments available for students and professionals.
Jean Baptiste
Jean Baptiste saxophones are made in Taiwan and Vietnam.
This company is a wind instrument manufacturer founded in 1932.
Sam Ash, a leading family-operated instrument retail in the US, currently owns the Jean Baptiste line.
Reviews describe Jean Baptiste instruments as high-quality and functional for student-grade standards.  
Jean-Paul
Jean-Paul is a leading wind instrument company striving to make instruments accessible for everyone.
Their products are targeted toward beginners and are manufactured and distributed in a way that makes them more affordable.
Jean-Paul saxophones get their manufacturing start in China.
Jean-Paul takes pride in ensuring everyone has a chance to learn an instrument, not just the financially privileged.
Jupiter
Jupiter is one of the leading instrument brands in the United States, offering a wide range of high-quality and reliable products for various uses.
Factories located in both China and Taiwan produce Jupiter saxophones.
Its mission is to provide instruments crafted with reliability in mind.
They offer a variety of instruments for both students and professionals.
Keilwerth
Keilwerth saxophones are made in Germany.
Known for being one of the best saxophone brands available, this company provides quality instruments inspired by traditional European craftsmanship.
Keilwerth is an excellent choice for professionals or hobbyists looking to take their musical passion to the next level.
You can find Keilwerth saxophones at major online and brick-and-mortar retailers.
King
Ohio is home to the manufacturing companies for King saxophones.
King Musical Instruments was an American instrument manufacturing company once based in Cleveland, and they produced quality instruments still in use today.
King saxophones have a rich history and are known for their distinct sound.
While the company is no longer in business, you can still find used King saxophones available online at places like eBay.
Martin
Martin saxophones were manufactured in Elkhart, Indiana, as were many vintage American instruments.
The family-run company started in 1852 and unfortunately went out of business, but now, Martin has made a comeback.
Now known as the Martin Brasswind Company, the business is now reproducing one of its most popular trumpet models.
Mendini
Mendini saxophones are manufactured in China.
This line is made by Cecilio Musical Instruments and is known for producing a variety of highly affordable instrument options.
While purchasing a Mendini saxophone may be tempting due to its low cost and accessibility, keep in mind that you will definitely get what you pay for.
More often than not, prioritizing your budget will mean sacrificing a bit of quality. However, Mendini saxophones are targeted for beginners.
P. Mauriat
Manufacturing plants in Taiwan produce P. Mauriat saxophones.
P. Mauriat's brand creates products that are renowned for being some of the best instruments available today, and their saxophones are very high quality.
Experienced players and professionals often recommend P. Mauriat saxophones to those who are interested in taking their playing to the next level.
Sonata
Sonata saxophones are currently made in China.
Sonata produces affordable instruments suitable for beginners or students, and their saxophones are often recommended by instructors.
If you're looking for a saxophone ideal for beginners who aren't ready to commit to a more high-quality and expensive instrument, then a Sonata saxophone might just be for you!
Yamaha
While China manufacturers produce some Yamaha saxophones, this brand also produces professional and custom models in Japan.
Yamaha is known as a global leader in instrument manufacturing and remains a favorite for both beginners and professionals.
One of the cool things about Yamaha is their broad selection of instruments.
If you're looking for a saxophone, they have so many to choose from, with different levels of affordability and quality.
Yanagisawa
Yanagisawa saxophones are made in Japan. This brand is known for producing some of the greatest saxophones of all time, and they make their instruments by hand.
While their products are a bit pricey, a Yanagisawa sax is definitely worth the investment.
Yanagisawa strives to create beautiful instruments with time-honored techniques and incredible attention to detail.
This brand will certainly deliver if you're looking for a high-quality saxophone!
Sources